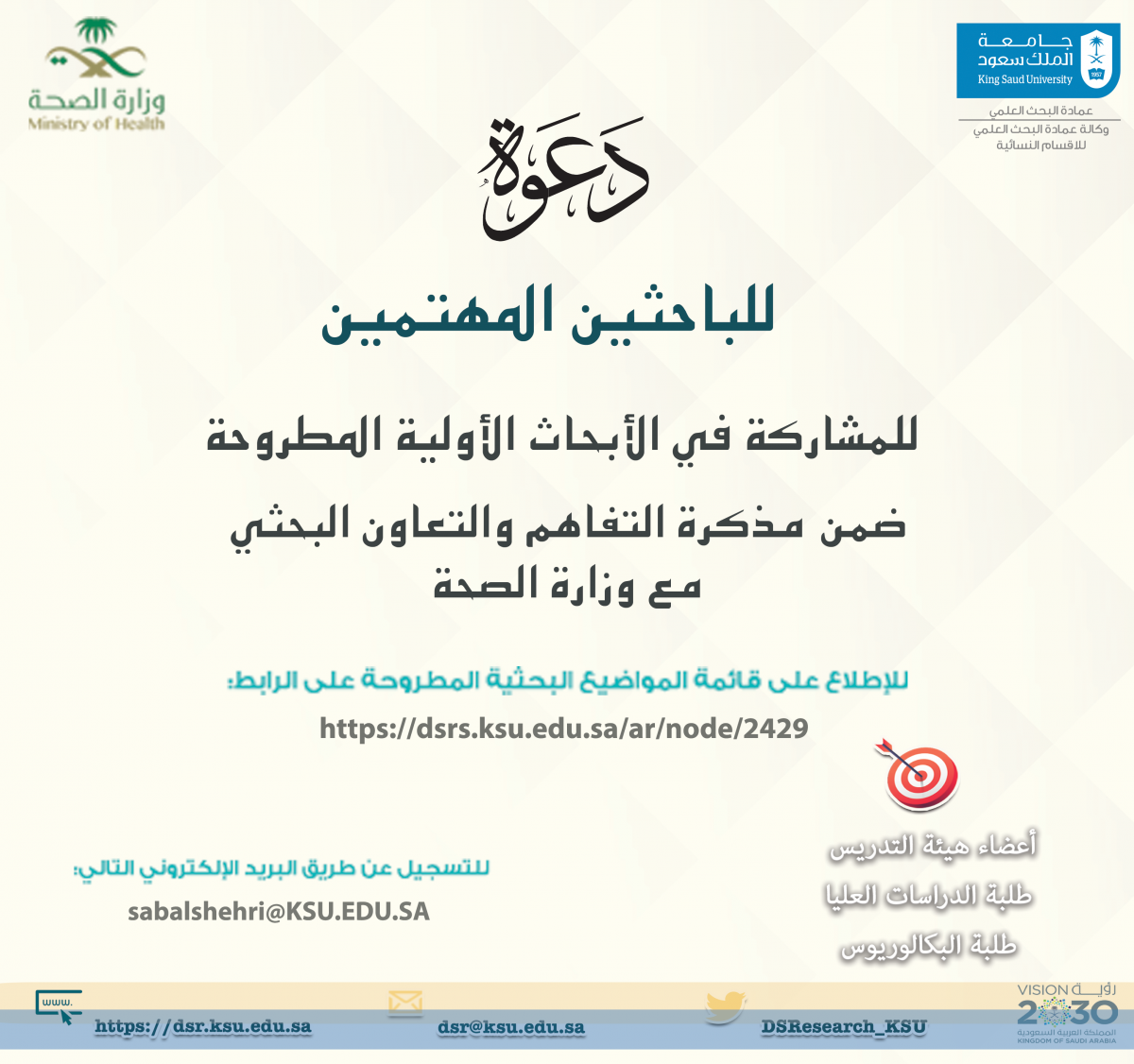 A scientific review of the international studies and experiments to select the best materials used in the walls of the operating rooms, intensive care and sterilization
Designing hospitals and health centers in Saudi Arabia compared to global designs (reality and future
Replacement of medical equipment and disposal in Saudi hospitals and health centers compared to international experiences
Evaluate and study the experience in purchasing dialysis service.
Evaluation of the consolidated procurement of medical devices and equipment and their effectiveness.
Study of the possibility of canceling the laboratory section in health centers in major cities.
Barrier for implement Intravenous administration technic in hospitals.
Compliance of Restricted and control antimicrobial therapy.
The effect of nursing practice environment on patient outcomes: a descriptive cross-sectional study.
Implementation of medication safety program for improvement Medication use management.
Assessment of MOH workforce motivation towards Electronic training platforms compare to traditional training process.
Reasons and obstacles which make the scholarships students fails to complete their study.
Effectiveness and efficiency of mobile simulation lab.
Optimization of medical equipment usage in radiology department in Saudi Hospitals.
Optimization of medical equipment usage in Laboratory department in Saudi Hospitals.
Prediction of colon cancer in Saudi Arabia.
Deep understanding for EEGD ECG signals for Saudi Smokers.
Centralized 3D Printing for the MOH Hospitals.
Developing framework for procurement and prioritization of medical devices with low budget.
Machine learning Algorithms development and application in healthcare settings.
Sustainable development goals influence on health and wellbeing of Saudi.

​ To participate, fill out the form below and send it to the e-mail mentioned at the end of the form